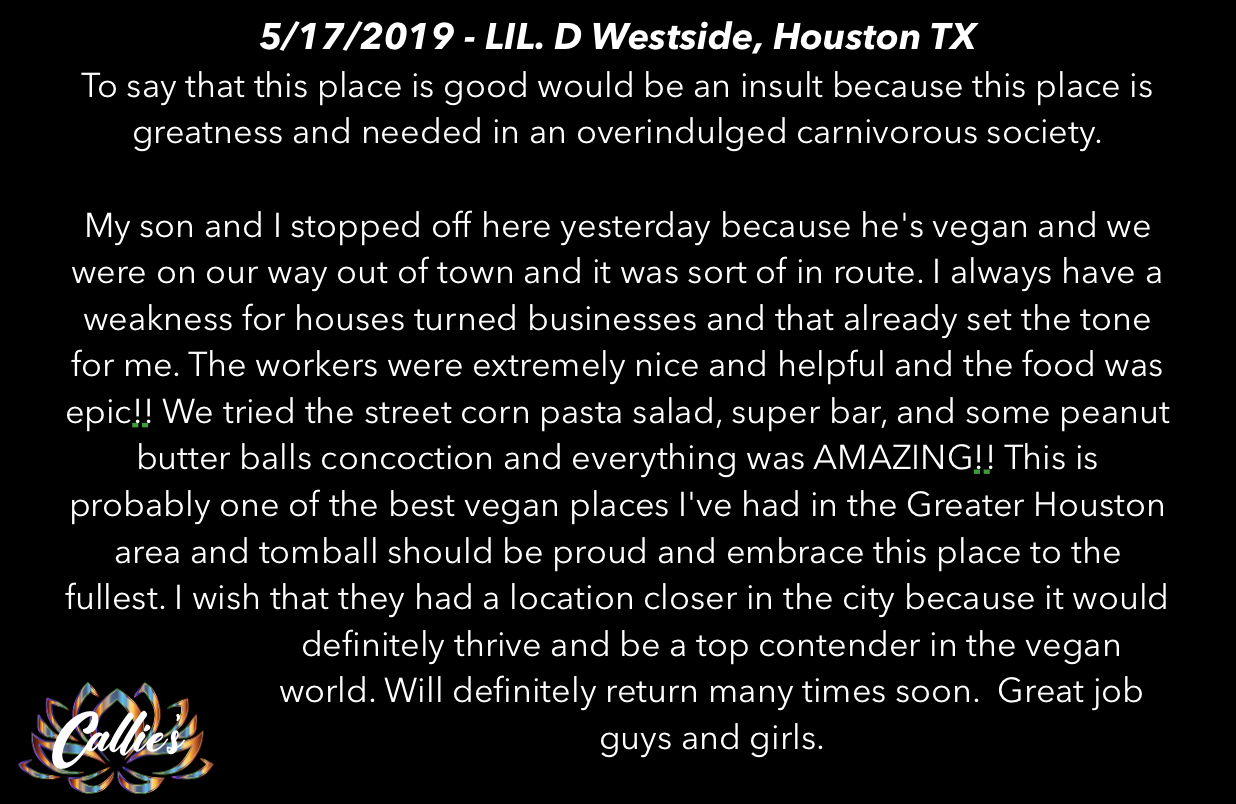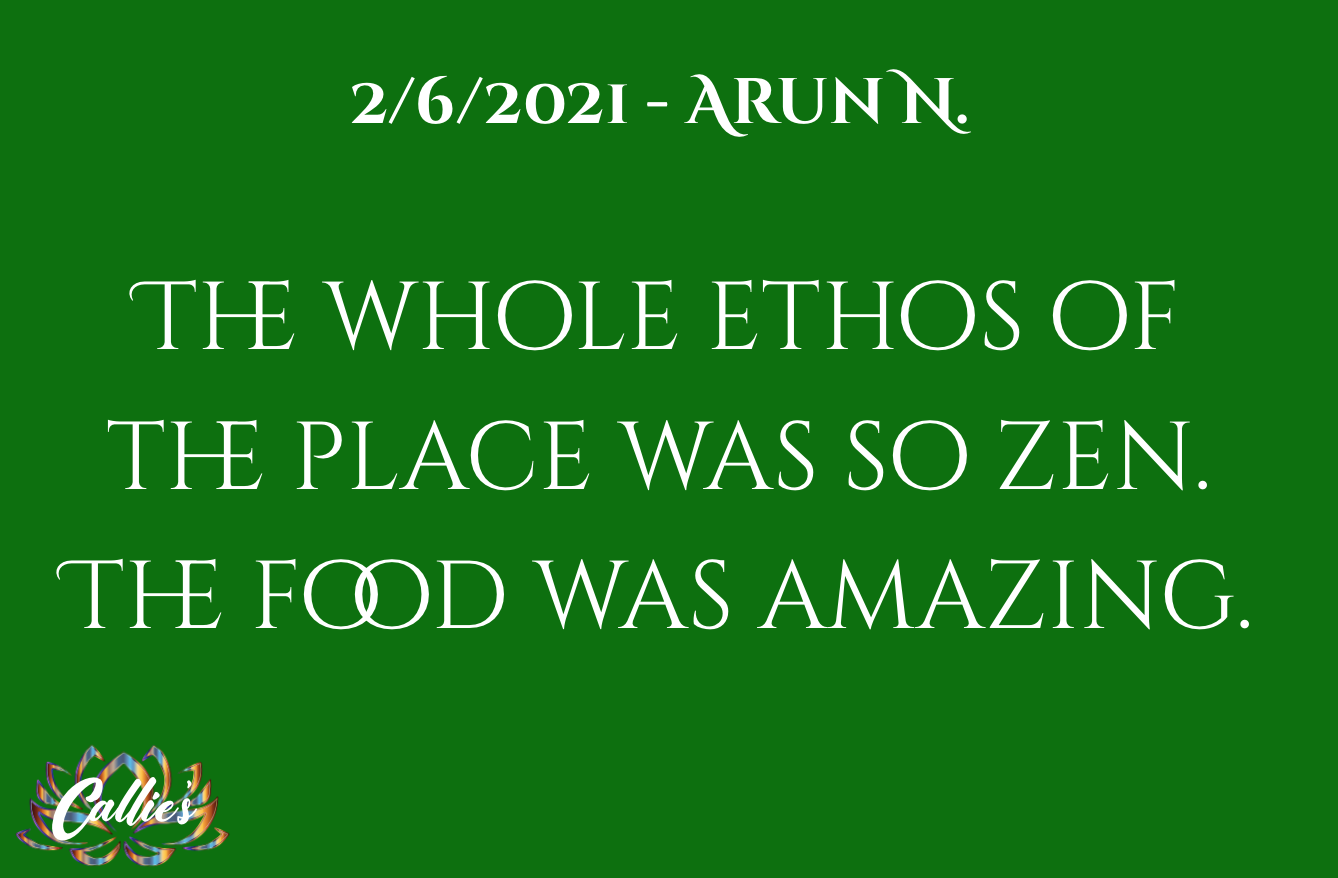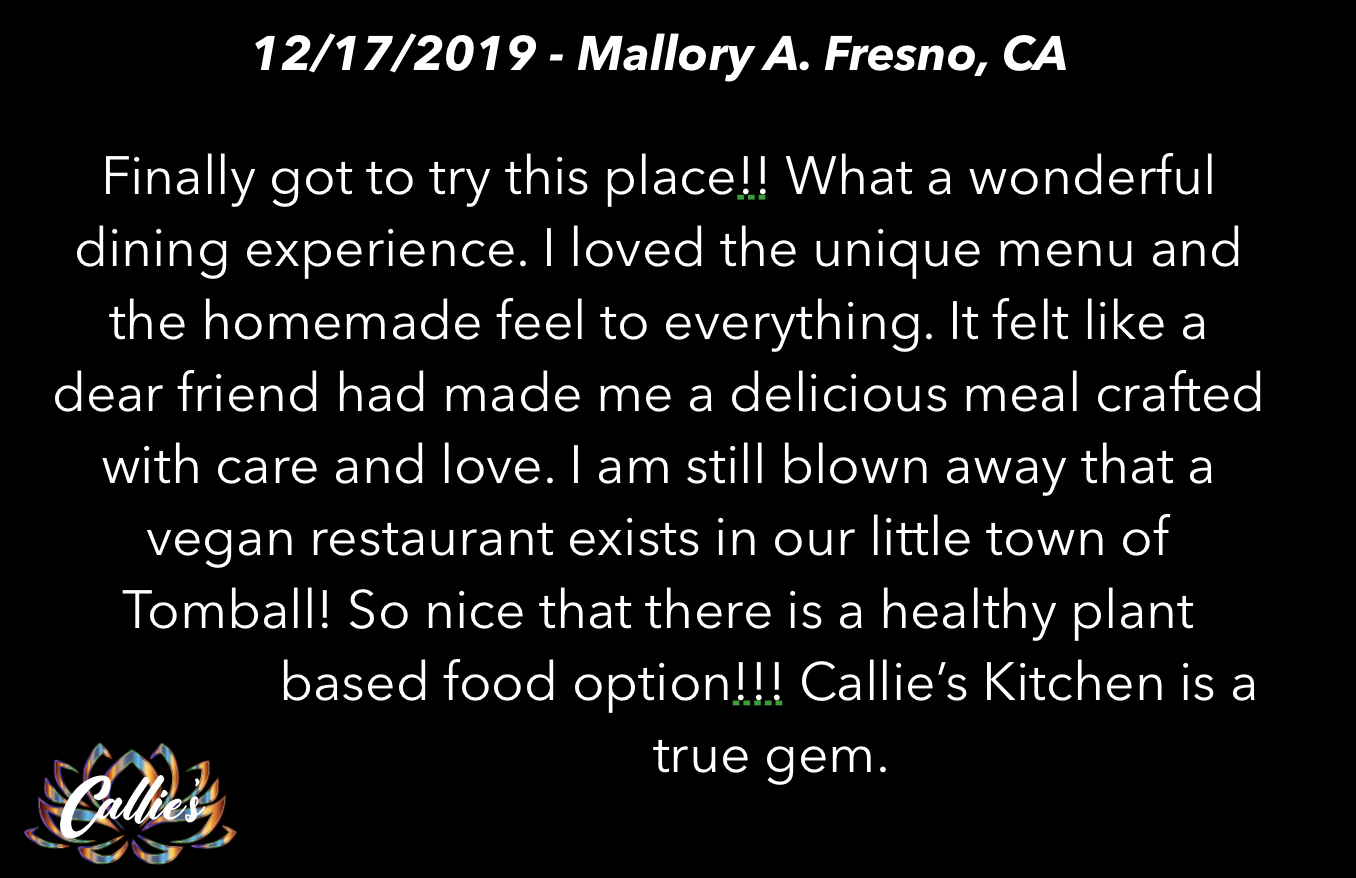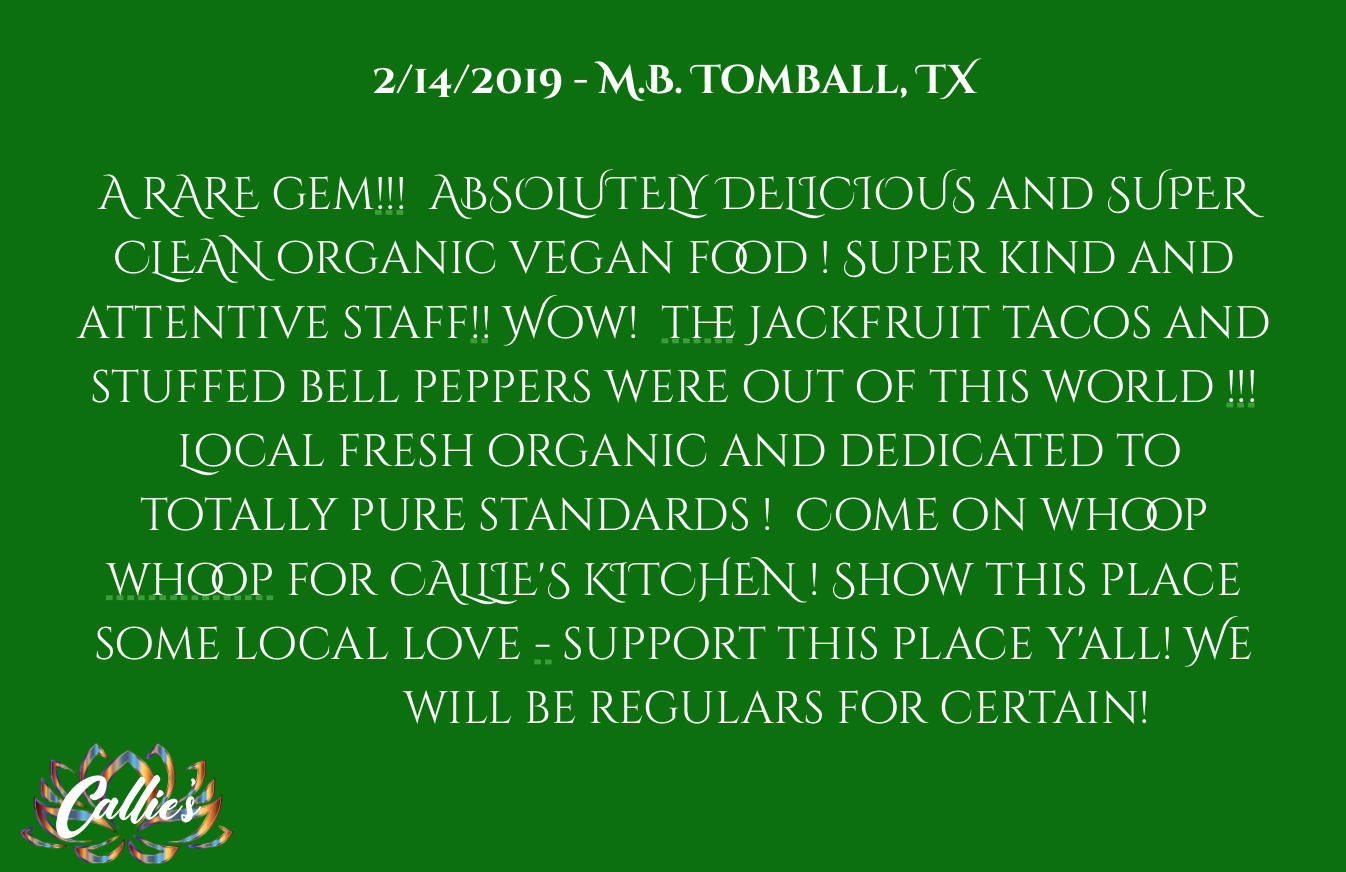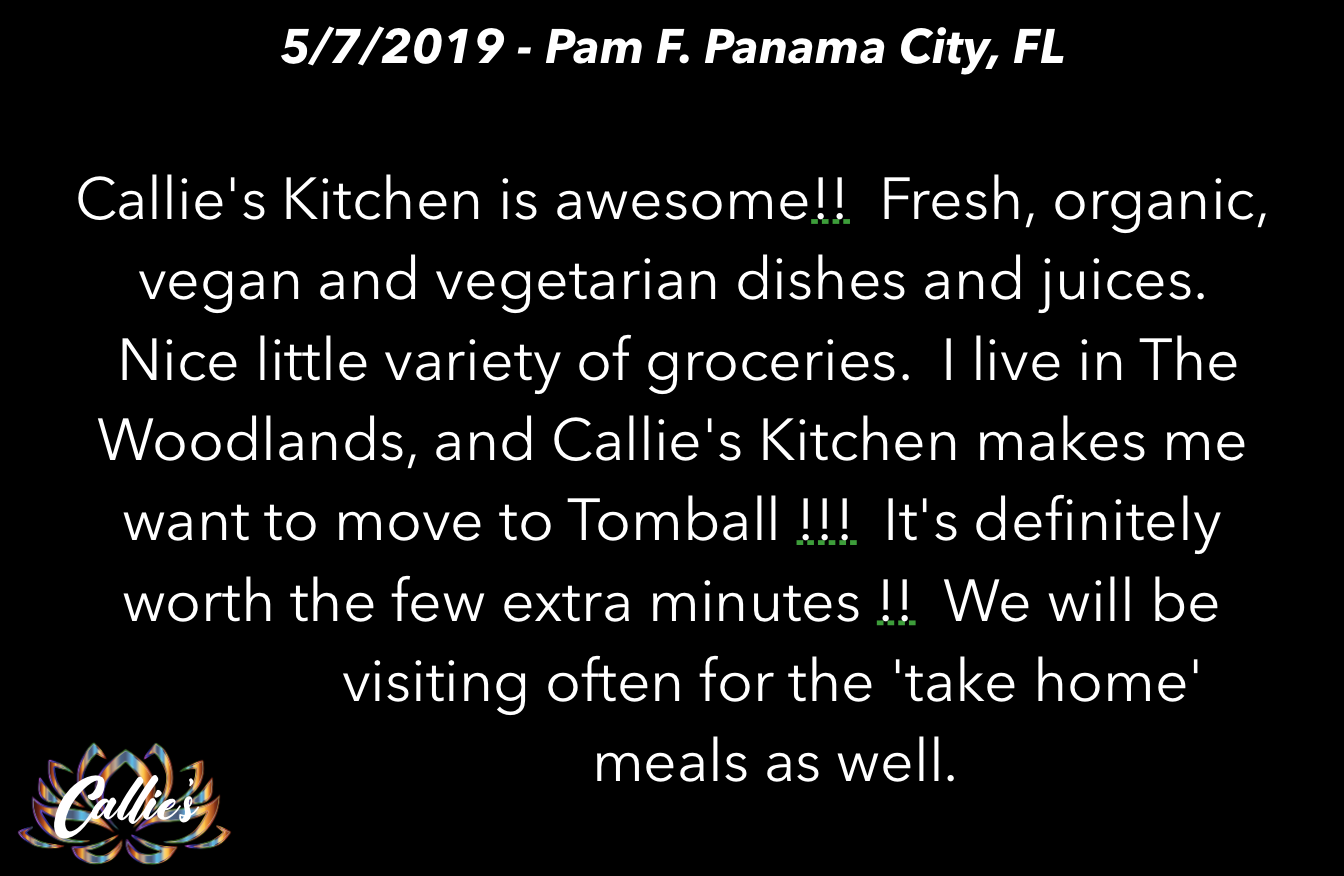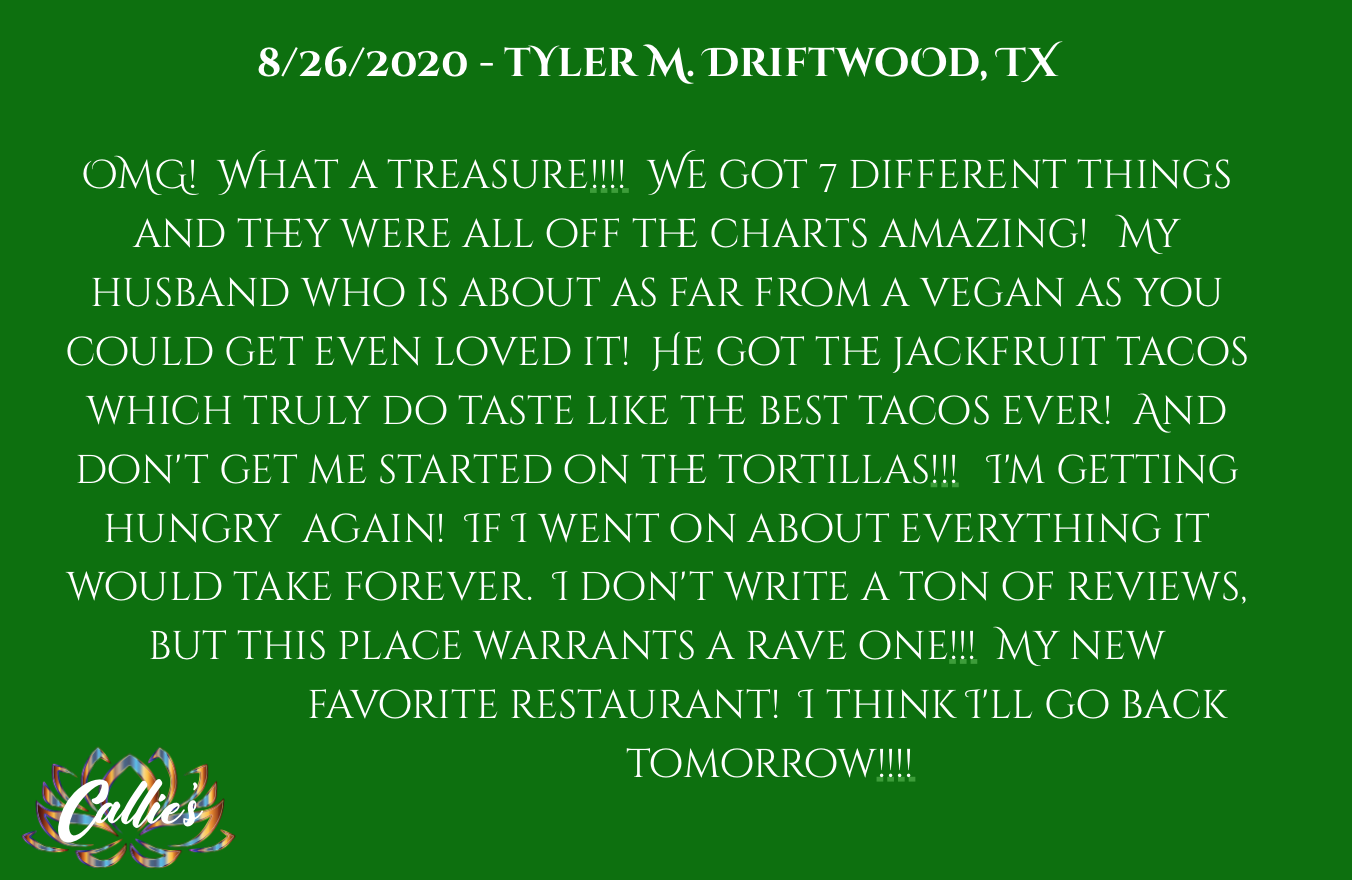 WEEKLY SPECIALS | MENU 5/10 - 5/15

100% Plant-based Vegan, Organic, Local, Soy-free & Chemical-Free With Love
$9 (16 oz.) $7 (12oz.) ORGANIC SWEET POTATO CAULIFLOWER SOUP (GF) Fresh blended garden herbs, creamy yams and cauliflower.
$12.50 BOTANICAL BUDDAH BOWL (GF) Organic seasoned red and white quinoa, avocado, fresh slow cooked black beans, roasted cauliflower, pumpkin seeds and micro-greens.
$11.50 PLANT KINGDOM WRAPS Sprouted flax wraps, loaded with local organic greens, house sauce, cabbage, micro-greens, eggplant sausage, tomato and avocado. $4.50 Add cup of soup
$10 JACKFRUIT & QUINOA HOUSTON STREET TACOS (GF available)
$11.50 GRANDE EGGPLANT SAUSAGE TACOS Topped with avocado, lettuce, tomato, local micro-greens & kreamy kale dressing
$11 LOCAL AVOCADO SALAD (GF) Fresh local greens, sprouts, chopped avocado, nuts & seeds, ground flax, raw vegetables & house dressing
$11 GARDEN AVOCADO TOAST (2) Gluten-free available
$10.50 VEGAN BISCUITS & GRAVY $2.50 Add eggplant sausage *FRIDAY & SATURDAY ONLY*
$5 LOCAL GOLDEN TURMERIC MILK LATTE *Steamed Almond Milk, turmeric, black pepper, flaxseeds, ceylon cinnamon, cardamon, ginger
$3 ORGANIC HOT COFFEE *Made with ultra purified water. 
$5.50 MATCHA CHAI LATTE - Steamed organic almond milk, Organic Japanese Matcha (ceremonial grade), organic ashwagandha, cinnamon, organic moringa, cardamom, organic allspice, ginger, organic star anise
$5.50 BEET ROOT CACAO LATTE Steamed organic almond milk,Organic raw cacao, organic beetroot, cinnamon, organic chaga mushrooms, organic triphala, hand-roasted cardamom
$3 HOT ORGANIC TEA *Hibiscus**Oolong Jasmine Green* *English Black*peppermint
CLICK HERE TO RESERVE YOUR ORDER ONLINE
(Online ordering pre-packaged meals only, 24 hour notice)